Managing a patient's emotional temperature is as vital as managing the other kind.

We have proof. It comes from patient satisfaction scores via The Harvard Business Review of April 2021:
Over 175,000 patient comments collected through surveys at a major teaching hospital between Nov. 2018 and Mar. 2020 reveal that "patients in every setting (inpatient, outpatient, and ED) value empathy, coordination of care, and good communication." And they do so with a "striking" degree of consistency.
Since good communication is where empathy and well-coordinated care begin, it's fair to ask: What is your patient-communications strategy? What is your strategy for using the ecosystem of patient communications – appointment reminders, call-center dialogues, inbound/outbound communications, patient-satisfaction surveys, population-health outreach, and more – to develop a deeper understanding of your patients, their concerns regarding care, and their preferred means of communication?
Make no mistake; you need a strategy. After all, unlike medical outcomes, the quality of patient communications is entirely within your control. Control it to engage patients the way they prefer to be engaged; as consumers who want their questions answered and anxieties quelled quickly, credibly, and conveniently. At the time of their choice and on the device of their choice.
Applying our extensive expertise in consumer communications – from workflows to integrations to natural-language processing and AI – MacawHealth will equip you to do exactly that.
How?
By devising a patient-engagement strategy that will take the best-of- breed components you've already implemented and enhance them with new technologies to create a device-agnostic, bidirectional platform that makes the patient the focal point of "patient communications."   
Here's a look at our Solutions…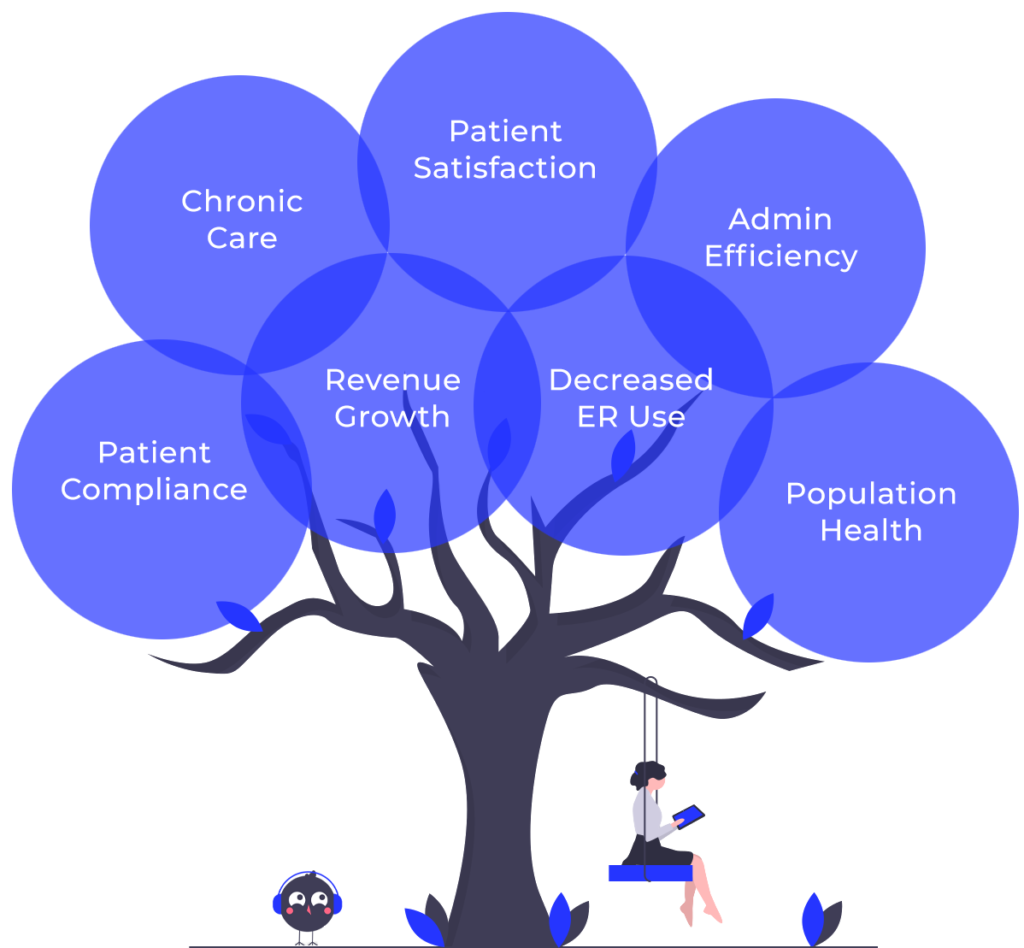 Welcome to the BetterTalk™ Solutions Suite!
BetterReminders
Why not have this touchpoint do more than confirm appointments? Design it to get a sense of what patients are thinking! If you're keen on turning patients into engaged consumers, the BetterReminders™ is the place to start. 
BetterSurveys
Though scores matter, to be sure, the survey process offers value in its own right – provided it engages patients in experiences they find beneficial, validating, and convenient. BetterSurveys™ make for better patient experiences.
BetterVirtualcare
No simple video chat, Telemedicine accesses providers when patients are most in need, and equips them with personal data to enable meaningful care experiences. Ad hoc virtual care creates these experiences, and BetterVirtualcare™ takes you there easily.
BetterProcedures
Because patients often find it onerous, procedural compliance is typically the weak link in the chain of events that determines outcomes. How to correct this? Allow patients to engage in the narrative you control. Compliance will rise, new efficiencies will emerge, and the cause of safety will advance. 
BetterHealth
Doling out generic advice and conducting pattern-matched surveys moves the needle on Population Health not a whit; nor does it do anything for chronic-care management. What does? Meaningful conversations that offer patients specific advice in their moments of need and encourage them to remain engaged.
BetterOffice
In a sea of change, this much remains constant: At the center of better care is the human touch. For this reason, BetterOffice™ couches technical information in natural language to personalize your relationships with patients, cost-effectively, through their media of choice.
Texting appointment reminders isn't nearly enough!
How to use patient communications to strengthen clinical, administrative, and commercial outcomes? You'll need a strategy, and we're the ones to help you design and implement it.